The Medical Spa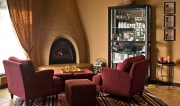 From the moment you enter our doors, you'll notice that everything in our office was designed for comfort – we're very glad you're here. Our experienced and caring staff will do whatever they can to educate you, address any questions you may have and make your stay with us an enjoyable one. No matter what treatment you elect to have at Bair Medical Spa, we promise that you will leave feeling more beautiful and sure of yourself.
Leading our commitment to your beauty is Dr. R. Dean Bair, medical director of Bair Medical Spa. Dr. Bair came to the spa after nearly thirty years as director of Albuquerque Family & Sports Medicine, New Mexico's largest independent primary care practice. Dr. Bair draws from the accumulation of more than four decades of knowledge in anatomy, physiology and anti-aging to take a holistic approach to treating your aesthetic concerns.
Below, Dr. Bair and Kristie Bair, president, discuss the consultation process at Bair Medical Spa:
As you open the decorative wood doors, you are welcomed by rich, royal colors, comfortable overstuffed chairs, subtle lighting, and warm, New Mexico hospitality. Pausing for a moment, you take a deep breath and begin to relax. The day's tensions slowly fade away.
You are wrapped in a cozy, luxurious robe and slippers, offered bottled water or herbal tea and taken to a tranquil treatment room. After your treatment ends, you rest while your face and neck are wrapped in warm scented towels that soothe any last tensions from your body.
Our caring, professional staff will apply mineral makeup, and you are ready to re-enter the world refreshed, relaxed, confident and more beautiful.